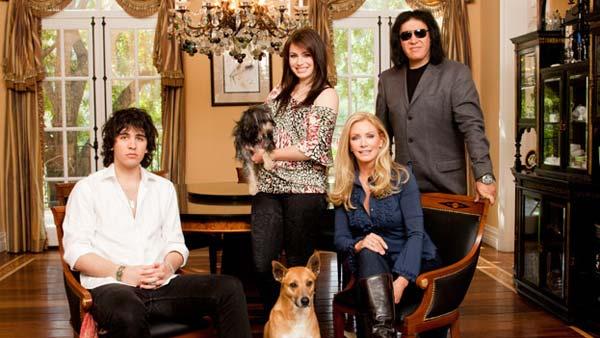 Shannon Tweed tweets the news of the cancellation, then takes it down.
by Corinne Heller/
On The Red Carpet
The cable network A&E has canceled the reality show "Gene Simmons Family Jewels," which stars KISS rocker Gene Simmons, longtime partner Shannon Tweed and their children, Nick and Sophie.
The show debuted in 2006 and enjoyed strong ratings during its first few seasons. Its season 7 finale aired in July and was watched by an average of 952,00 viewers and received a 0.4 rating among adults between ages 18 and 49.
Simmons, 62, is currently on tour with his band. His family released a statement to
The Hollywood Reporter
about the cancelation on Wednesday, August 15.
"With KISS on tour and with my other business commitments, we have decided to draw the final curtain on our show," the message said. "It has been a wonderful, life-altering experience for our family, and after seven successful seasons, we feel it's time to move on."
"For seven great seasons, Gene, Shannon, Nick and Sophie have been part of the A&E family, and we could not be more proud of the unparalleled run of 'Gene Simmons Family Jewels,' the network said in a statement carried by the outlet. "On behalf of everyone at A&E, we'd like to thank the production team at Thinkfactory Media, Gene and his amazing family for their partnership, collaboration and for opening up their lives, warts-and-all, to us throughout the years."
"Gene Simmons Family Jewels" showcased key events in the family members' lives. The
rocker and Tweed, 55, were shown getting fac lifts
. They had a wedding ceremony. They discussed adoption. Also, the family members went on vacations abroad, visiting places such as London, Paris, Madrid, Africa and
Israel
, where Simmons was born. His birth name was Chaim Weitz.