Stars of TANKED Add Their Skills to KISS Themed, Marshall Amplifier themed KISS Mini Golf Aquarium
By Kiran Hefa/
PeoplePets.com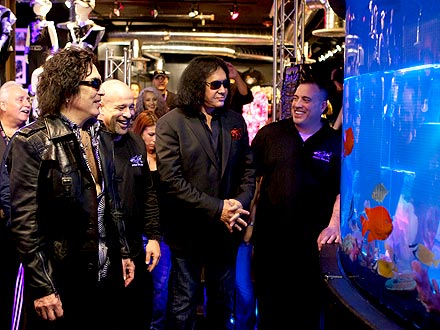 Wayde King and Brett Raymer have worked on their fair share of impressive fish tanks, but a recent addition to their resume introduced them to some very special collaborators.
"It was pretty painless," Raymer says of working with Gene Simmons and Paul Stanley of KISS, who came out to admire their handiwork at the grand opening of a KISS-themed miniature golf course in Las Vegas, where the duo built a tank bearing the band's logo.
The structure is just one of many the pair, who are also brothers-in-law, construct in the newest season of
Tanked
, which airs Saturdays at 9 p.m. on Animal Planet. Later this week, King and Raymer will head to the home of
30 Rock
star – and
noted animal lover
– Tracy Morgan to install a shark tank.