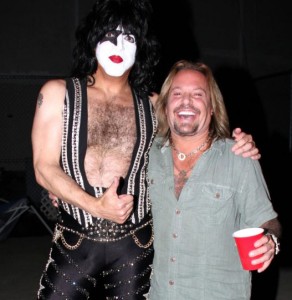 It's (Almost) Official: KISS and Motley Crue Touring This Summer- Together
Vince Neil has told the Las Vegas Sun that Motley Crue will be touring with KISS (as co-headliners) begininng in July.
"It's going to be really cool because KISS is bringing their full stage show, and Motley will be bringing our full stage show, so you are going to see two huge headliners at the same time. It's going to be one of the biggest tours of the summer, if not the biggest," Vince Neil told the Sun.
The tour is expected to run through September. An official announcement is expected with tour dates next week from Los Angeles.
KISS took Motley Crue on their first tour outside of California in 1982 during the Creatures of the Night/10th Anniversary tour.