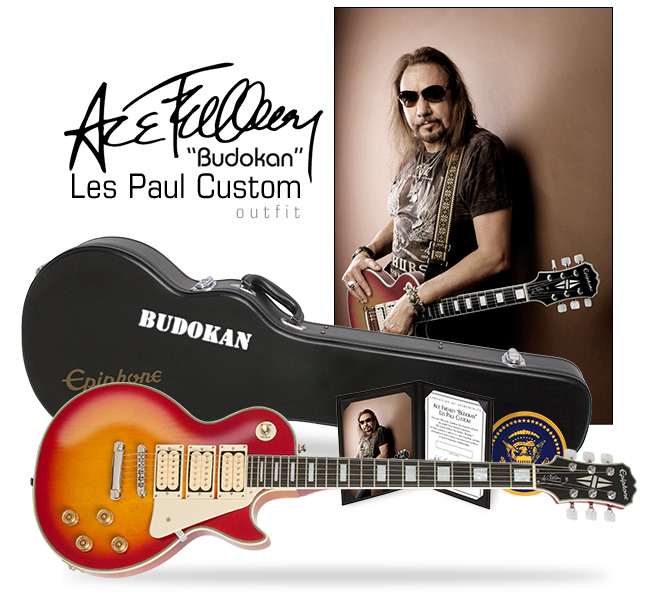 Ltd Ed Ace Frehley "Budokan" Les Paul Custom Outfit: Epiphone is proud to announce our tribute to Ace Frehley, one of rock's most influential guitarists, with the Epiphone Limited Edition Ace Frehley "Budokan" Les Paul Custom Outfit. As the lead guitarist for KISS (and the original designer of the famous KISS logo) Ace Frehley is renown around the world as one of the Les Paul guitar's most exciting ambassadors as well as one of rock's greatest showman. Ace single handedly inspired a generation of guitarists to pick up rock and roll's most powerful axe. Now, Epiphone makes this iconic guitar available to players everywhere.
The Budokan Les Paul: Ace's original "Budokan" Les Paul made its stage debut in 1977 during KISS's "Rock and Roll Over" world tour, which helped establish KISS as the #1 live act on the planet. Ace made the "Budokan" Les Paul his main axe at the very time KISS's fame was exploding around the world thanks to prime time television appearances, a sold out debut at Madison Square Garden and the release of their classic album, Love Gun, which included Ace's signature hit, "Shock Me," ranked #50 in Guitar World's "100 Greatest Guitar Solos" ever. But 1977 is most remembered as the year KISS sold out four nights at the Budokan Theater in Tokyo, Japan, breaking the record previously held by The Beatles since 1966. Ace returned to Japan with his "Budokan" Les Paul the following year for the Alive II tour where KISS broke the record again with a sold out five night stand.
Click
Here to go to the Official Site!