Warpaint, concept albums, 'misdeeds' and being embraced by middle America: Kiss tell their rock'n'roll tale in their own words
By Michael Hann/
The Guardian UK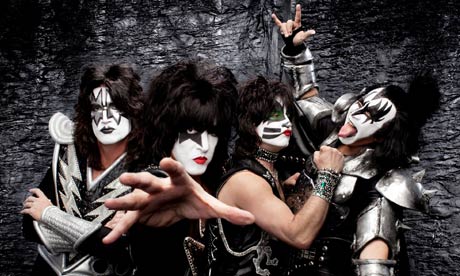 You have to wash your hands before touching Kiss's new book. Given that only 1,000 have been printed, one would imagine the copy being shown to journalists in a hotel basement in London will be given a wipedown and sold along with the other 999.
It would be a very Kiss thing to do. On the one hand, Paul Stanley and Gene Simmons – long the only two members of Kiss who matter, and around whom drummers and lead guitarists rotate and revolve – want to make a statement about their legacy. On the other, their chosen instrument is an extraordinary collection of photos, almost as large as life – Kiss Monster Book is 3ft high and opens to 5ft wide – that won't fit on your bookshelf and will cost you $4,299.
Kiss at their peak permeated American popular culture. Even now, after 39 years, they are still loved around the world, and still working – a new album, Monster, follows later this year. And their story is about more than just pyrotechnics, sexual conquests and money-grubbing.


Gene Simmons
Paul and I were in a band called Wicked Lester, and we had a recording contract with Epic Records. It was kinda like Three Dog Night or
the Doobie Brothers
– everything all over the place. Some pop stuff, some heavy stuff, some of this. There was no identity. We were looking the gift horse in the mouth and saying: "This isn't real. We don't believe in it." We quit. We quit our own recording contract to go back and start with songs. And we started to write Strutter and
Deuce
and
Black Diamond
. Once we had those core songs, we understood the musical identity.
Paul Stanley
[We] were basically
following that same formula of: don't bore us, get to the chorus. We weren't about 20-minute jams. By the time you get to the second chorus, you can sing the song. You know it. That's good songwriting. It's not an exercise in jerking off.
GS
[The makeup] was warpaint. Let me give you a sense of our warpaint – makeup does not give it enough respect. We played a place called the Daisy. There couldn't have been more than 50 to 100 people there. When we looked across the stage, we felt as if we belonged together. I remember seeing the Beatles as a kid and thinking there must have been a Beatle mother cos they all looked like they were connected. There's no question that our outfits and our boot-heels and our makeup was a unique definition of who we were and helped us become who we are.
PS
We had a rule that we wouldn't play more than once every eight or 12 weeks because we wanted people to think we were busy. We were literally sitting in our loft starving and rehearsing. And then we would go out and do a show and I would say: "It's great to be back – we've been gone!" We weren't anywhere. But it was about creating this mythology from the ground up.
GS
We designed our own posters, had friends of Peter [Criss, the drummer] print them up, and at night we would go out there and put up our own posters so nobody would see us.
PS
We'd load in our equipment in the afternoon so people thought we had a road crew. We had a wall of speaker cabinets that had no speakers in them – we couldn't afford the speakers. We would tell the people working the spotlight: "Don't shine the light on the cabinets," because you'd be able to see through them.
GS
People often reference Kiss and the
New York Dolls
. It's really historically inaccurate. It's not factual. Paul and I went to see them play at a place called the Diplomat Hotel and when they went up on stage we said: "Wow. They look like stars." I'll swear on my children – just so you'll understand this is accurate and no bullshit – when they started playing we turned to each other and said: "We'll kill em." They could not play. Songs were all right –
Personality Crisis
– but they could not play guitars. Horrific.
PS
We were always the black sheep [in New York rock]. And we were the black sheep because we took what we did seriously. The other bands round what they were calling the glitter scene in NY were basically the soundtrack to a fashion show. They were more about hanging out at
Max's Kansas City
– which I think I went to once. As a rule, all those bands were more about going to parties and being seen than rehearsing. We were rehearsing literally seven days a week, so we had no kinship, we had nothing in common with them, we weren't cool.
GS
There was a pride in songcraft and peeing on the ground the way a wild animal does and saying: "This is my territory. This is who I am." Identity was important then, it's the most important thing now.
PS
We were the fans that became a band. On any given weekend I would go to
the Fillmore East
or the Village Theater. And for three, four, five dollars it was the best-spent money on a Friday or Saturday night. As a kid I saw Humble Pie, Derek and the Dominoes, Led Zeppelin, the Yardbirds with Jimmy Page, Vanilla Fudge, you name it. That was what I aspired to. Not necessarily to blow shit up, but to go up on stage and turn it into electric church. Go up there and testify and sing the praises of rock'n'roll. Plugging a guitar into an amplifier and basically singing religious hymns all night. For me that's what Kiss is all about. So it's interesting it's when people will see early footage of the band and be surprised at how good we were. Technically we may not have been great but we were committed and believed 100% in what we did. And we played well enough to put it across. With time we built a massive show, which was us saying: "What would we love to see a band do? How can we be the band we never saw?" But the core of it always has been music. It has to be. You can't last as long as we have because you have big smokebombs. A crappy band with a Kiss show is still a crappy band. There are many bands who can afford to do a Kiss show, and they do. But the DNA is Kiss.
Read more
HERE