Kiss Asylum News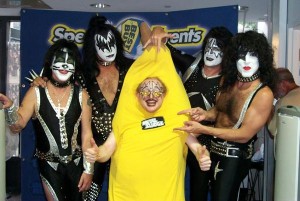 Our good friend Tony Confessore, better know as C.C. Banana, passed away today at his home in New Jersey due to an apparent suicide. He was 43.
Tony incorporated his love of KISS into much of his professional comedic work, including the KISS tribute CD "
KISS My Ankh
", a Tribute to Vinnie Vincent which he produced and performed on with his own irreverent version of the KISS classic, "Unholy". One of his more brilliant pieces was his
20 Questions with Eric Singer
which was conducted live on-stage at a KISS Expo in 2007. He had many personas, the most well-know among KISS fans being the
Ace Peeley
banana character as well as a his more elaborate
Maul Stanley
- an incarnation of Paul Stanley and Darth Maul from the Star Wars Episode 1 movie. More recently, Tony appeared as AJ the Clown at the 2011 New Jersey KISS Expo where he entertained and lent himself to face painting for the younger crowd attending the event.
Tony posted his final goodbye from his Facebook last night:
Xanadu has been breached, my friends. Cry "Havoc!" and let slip the vultures and jackals. No more past. No more future. Both have been taken away…. If only those who knew less didn't always think they knew better. It took just one year of Hell to undo a lifetime of hope. I am too lost to be found and too broken to be fixed. Let the Monday morning quarterbacking begin. - Anthony John Confessore
Tony was the victim of long-time financial problems and the stress apparently had taken it's toll on him. He was loved by many and will be missed as much.